We are a full-service Lock Shop th

at provides such services as:
Cutting new keys
Inspecting doors for Title 9 compliance

Installing and repairing automatic doors

Installing and repairing card readers
Installing door hardware

Programming & issuing ID badges for card-reader locks

Re-keying doors
Re-setting safe combinations
Repairing door hardware
University policy on Lock & Access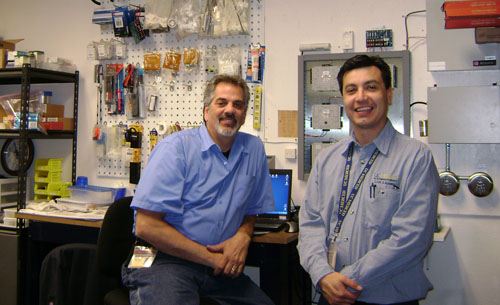 A. Key/Access Card orders
     b. An individual's or periodic access requests need to be submitted with sufficient lead time to accommodate the individual's schedule; contact Customer Service Center (CSC) at 855-234-0579 to advise of lead time requirements. The requestor is responsible for first confirming that the access card is valid through the CatCard office & authority for the space has been granted. Large/batch orders take significantly longer lead time; contact Facilities Management Lock & Access at the onset of the planning phases to determine lead time requirements for these requests.
 B. Key/Access Card issue, return & loss
     1. Key/access cards that are no longer needed by the department must be returned to Facilities Management Lock & Access.
     3. Any lost/stolen key or re-keying due to lost/stolen keys is the responsibility of the department.
 C. Costs
     1. The first issue of keys and access cards for spaces in a new building or newly assigned space will be furnished by Facilities Management Lock & Access to departments, with the cost borne by the capital project or departmental relocation account as applicable.
     2. Costs for additional keys/access cards and re-keying lock cylinders will be charged to the requesting department.
     3. Departments that consider a fee deposit necessary for the management of key security may collect a refundable key deposit from occasional users of keys.
         a. The deposit must be applied consistently to all occasional users.
         b. The deposit may not be collected from faculty & staff employees associated with the department.
         c. Departments collecting a key deposit from occasional users must maintain a current record of all deposits & associated users.
Contact
Frank Fimbrez
T: 209.228.2908 | E: ffimbrez@ucmerced.edu
Shop hours
NOTE: The Campus Lock Shop will require keys to be picked up by the end-user at Facilities Services Building A Lock Shop window. 
Lock Shop window hours of service are limited to: 
Monday through Friday 
11:00 am to 12:00 pm and 2:00 pm to 3:00 pm (except for University holidays and closures)