Generate and distribute steam for the Campus

Generate and distribute water for Campus cooling & heating

Maintain HVAC systems for the Campus

Monitor electrical distribution for the Campus
Thermal Energy Storage Tank Status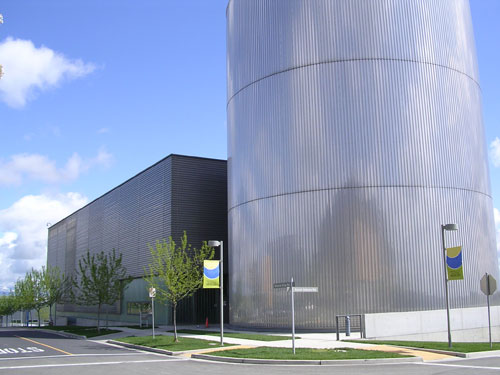 Built in 2005, the Central Utility Plant (CUP) was the first energy plant in the United States to be certified LEED Gold.
The UC Merced Central Plant generates and distributes chilled water, heating hot water and steam. Incoming electrical services from PG&E and the Campus photovoltaic array are managed and distributed from the Central Plant. Chilled water is distributed to campus buildings for the purpose of equipment cooling and space conditioning. Heating hot water is distributed for the purposes of space conditioning. Steam is produced and then distributed to the Science and Engineering 1 building for research purposes; primarily sterilization and testing.
Chilled water is generated by high-efficiency centrifugal chillers, and associated cooling towers, variable frequency drives (VFDs) and pumps. The chiller system is operated during the evening hours to reduce electrical utility costs and maximize system efficiency. The Thermal Energy Storage Tank (TES) is used to store up to 2 million gallons of chilled water. During the day, energy efficient pumps distribute the chilled water from the TES out to campus via a network of piping.
Steam is produced by natural gas powered steam boilers. Water supplying the steam boilers is supplied through a Reverse Osmosis (RO) system. The RO system saves both water and chemical treatment by maximizing the cycles of concentration.
Heating hot water is produced by natural gas powered boilers and distributed to a large portion of the Campus.
The CUP is staffed 24 hours a day, seven days a week. Stationary Engineers operate and maintain the chillers, boilers and ancillary equipment, as well as monitor the Campus through the Building Automation System.